Alberta Driver Licensing
Are you looking to renew your driver's license, have an out-of-province license, want to get your learner's permit or simply need a drivers abstract? At Farnese Registry, we provide you with exceptional service to make it easy to get you back on the road or to maintain your daily driving without any hassles or unexpected fees.
We offer you a wide selection of drivers licensing services so you can do all that you need in one visit. Yes, a one-stop shop on your lunch break rush to get your registration sticker on your plate before the deadline. Or, you're finally ready to take that road test.
Luckily, we're open 7 days a week; so if the urge hits—get registered, take a road test, do whatever you need—we're here to help.
Let's get started with the basics.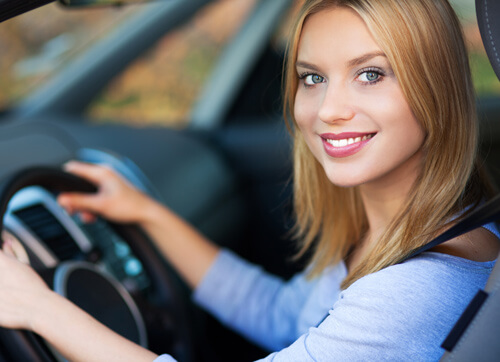 Need a Driver Hand Book?
Be prepared and download your copy of the Alberta Driver handbook below. For more information regarding Alberta Driver's License click on the Service Alberta link below or Contact Us.
Knowledge Tests
While there are seven different classes of driver's licenses that you can obtain in Alberta, the one requirement for almost every class of driving (except class 5 and air brake endorsement) is the knowledge test. It may seem straightforward to some, but what exactly is a knowledge test? A knowledge test is comprised of 30 multiple choice questions that test your understanding of Alberta traffic laws. Sounds easy enough. But in reality, you must pass this test with flying colours to be a licensed driver or you'll be back riding your favorite bus to school or work. But, don't worry—the test can be taken once per day as many times are you want. And, test stations have audio-assisted devices and translators available. Practice tests and handbooks are accessible for you to study. For more details on knowledge tests, read the Alberta Services page here.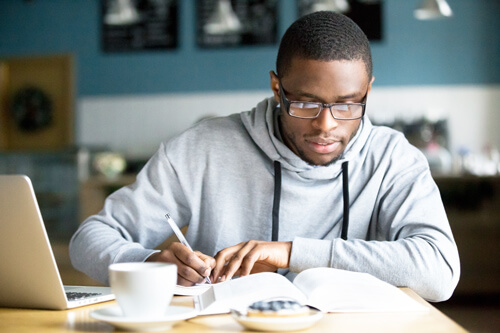 4 Tips To Ace Your Driver's Test in Fort Saskatchewan
There isn't much that's more anxiety-provoking than being tested on your driving skills. Getting your license is more than an accomplishment; it's a right of passage, a badge of honour, and a sign of status. However, it may seem like you don't have much control over the outcome of the test. You may have the skills down, but there are a lot of variables that could go wrong. Unfortunately, you can't take the test on an empty road. There are pedestrians and traffic—and even if you know all the rules of the road, it doesn't preclude someone else from breaking them, and the way you react in those situations (when another driver or pedestrian does something unexpected) is part of the test, too. You can still ace the test, though; it isn't completely out of your control. Just follow these tips that will help you feel like you have more control when the time comes to take the test.
1) Practice makes perfect
Practice: it really is the best way to improve your skills and confidence in anything you do. Are you a little fuzzy on parallel parking? Practice it until you get it perfect, then practice it again. You want to make sure you know all the procedures (literally!) backwards and forwards. Knowing you have done each test component in advance will help boost your confidence so you'll feel less nervous on the day of the test, but it will also help when those nerves inevitably start to creep up on you. Knowing the routine inside-out will make it more of an automatic response, and you'll be able to pull through on it in spite of your nerves.
2) Know your vehicle
You don't just want to practice until the test material is familiar; you also want to practice until the vehicle is familiar, too. Make sure you choose the vehicle you are going to take your test in early, and practice in it as much as you can so it feels familiar on the day of the test—and so you know where all the essential features are. You'll need to know how to turn the headlights on, how to activate the emergency lights, and how to engage the emergency brake, among other things.
3) Pay attention to the little things
You may not think it makes that much of a difference when you forget to check your mirrors every once in a while, but the little things add up. Make sure you check your mirrors often (and make it obvious that you are checking them; move your head a little instead of just glancing), always check your blind spot before you merge or change lanes, make sure you signal, keep your hands at ten and two, and make sure you come to a complete stop at all stop signs and red lights—no rolling stops!
4) Be extra mindful
Having someone in the car to test you can be more than a little distracting, but it's important to keep your eyes on the road. Don't just be aware of what's in front of you. Seeing what is happening all around you is important, too, and try to predict the unpredictable (sometimes you can tell when someone is about to unexpectedly step out into traffic). It's the best way to prevent surprises, and having a plan for when the so-called unexpected surprises do turn up will get you extra points on your test.
Learner's Permit (Class 7)
A learner's permit gives you the ability to practice driving; it's the first step in the Graduated Driver Licensing (GDL) program. To obtain a learner's permit in Alberta, you must be 14 years of age, pass a vision screen test and a knowledge test, obtain parental consent (if you're under 18), and have valid identification. There are conditions that first time learners must meet, including being accompanied (in the passenger seat) by a fully licensed driver who is at least 18 years old.
Steps to start your learner's permit process:
Read the Driver's guide for workbooks and practice tests before you do the real test.
Take the knowledge test. For a small fee, you can take the knowledge test once a day until you get it right.
Pass a vision test at the registry.
Purchase your license card and get a temporary card that's valid for 30 days. Check your mailbox for your permanent learner's permit and start your journey to driver's success.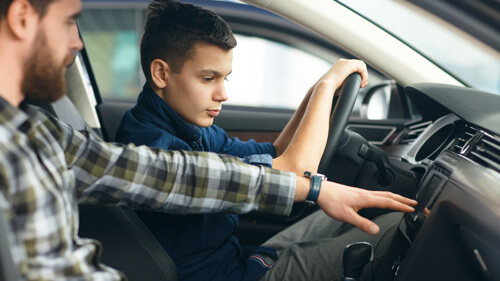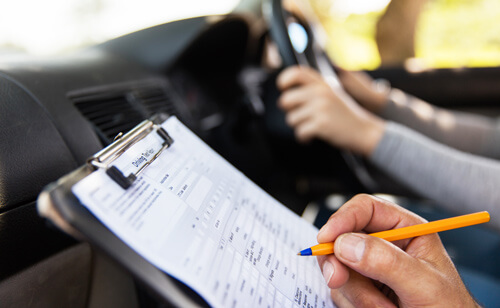 Road Tests
You've passed your knowledge test and now you're ready to hit the road. The road test is available for Class 4, Class 5 Basic (Class 5B), and Class 5 advanced (Class 5A). We make it easy to get you to driving freedom.
Road Test Prep Take your time. It's always important to learn new driving skills by practicing to be safe on the road. You won't become a great driver overnight. Educate yourself and you'll be more confident by the time you get to the road test.
Re-classing Your License
If you want to drive a bus, a 3-axle-plus, a taxi, ambulance, or motorcycle, you will have to re-class your existing license, depending on the current class. If you have graduated from the GDL program, you are qualified to re-class to a Class 1, 2, 3, or 4 license. This excludes re-classing to Class 5 to Class 7.
Contact us at Farnese Registry to ask us about the requirements to re-class your license. This may include a medical report, a knowledge test, and a vision test.
Class breakdown
Class 1 (Professional-Any vehicle)
Class 2 (Professional-Bus)
Class 3 (3-axle plus)
Class 4(Professional-Taxi, Ambulance)
Class 5 (2-axle-Cars, Light Truck, Motor Home, Moped)
Class 6 (Motorcycle & Moped)
Class 7 (Learners-2-axel & Motorcycle & Moped)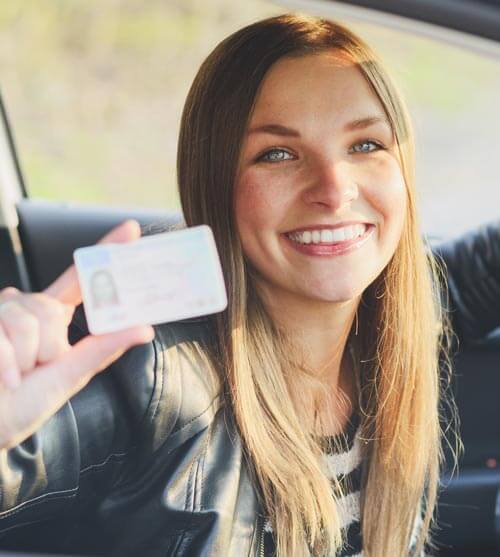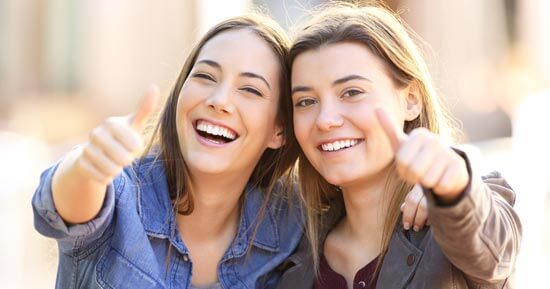 License Renewals
It's your responsibility as a driver to go into a registry ahead of the date your license expires to renew it. Because it's often hard to remember one, two, or even five years in advance, you can sign up with My Alberta eServices and you will received a handy reminder when your license needs a renewal. License Suspensions You may have too many demerit points or an alcohol related suspension. Whatever the case, you may qualify for the Restricted Driver's License Program.
There are eligibility requirements to be accepted into this program. More information is available here. If you need to reinstate your license suspension, you can do this at the registry. A license reinstatement fee will apply, ranging from $50 to $250, which must be paid in person.
Replacement Drivers License
You're on business or vacation and you're in a panic because your driver's license is expired. Don't fret, you can apply for a Condition Code F Service, and you'll get your new license in a few weeks. Fill out the 2 page Renewal/Replacement License form to get started. You can submit the form by walking in our registry or via email.
What if you have lost your driver's license or your wallet was stolen?
A lost or stolen license can be a pain… Go straight to Farnese Registry to get your replacement license before you get pulled over by the cops and have to pay a hefty fine. Remember to bring a piece of I.D. with you, such as a birth certificate or passport.
Out-of-Province/Country License Exchanges
You have moved to a new province in Canada or from another country and want to exchange your license so you can explore your new city. Within Canada, it's a fairly easy process. You will need your driver's license and proof of residency documents, including a recent utility bill, a credit card statement or something similar. If you're not sure what to show, call our friendly staff at Riverbend Registry and they'll be more than happy to help you out.
If you've just moved to Alberta from another country, it can be a lengthier wait for a license. You may be treated as a new driver and have to start from the beginning. Alberta's Reciprocal Licensing Agreements exists for some countries, including all Canadian jurisdictions and territories.
For more information, read the Factsheet: Reciprocal/Non-Reciprocal Licensing for Out of Country Drivers. Happy driving!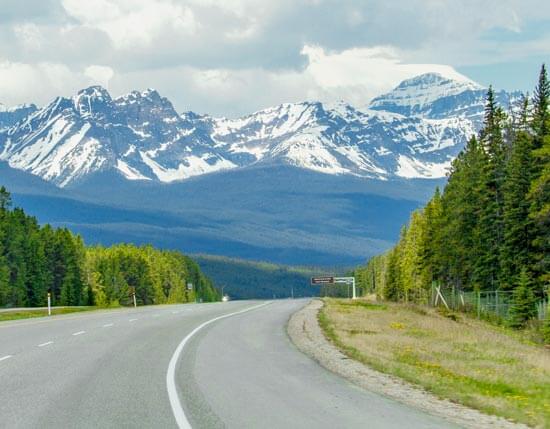 Drivers Abstract
Are You a professional driver (truck driver, delivery driver, etc.), or do you own a company that needs reliable drivers? Whether you need to request a standard abstract or a commercial driver's abstract, we've got you covered. An abstract is chock full of useful information on every driver in Alberta, including suspensions, demerit points, a driver's address, and status of the driver's license over the past three, five, or 10 years. Employers will request a commercial abstract to assess safety issues of the driver. At Riverbend Registry, we understand you're busy and need to get things done. Bring your driver's license or one piece of government approved I.D. in person to the registry office to request an abstract. For detailed information on how to order, what to bring, and any other questions, please call our expert agents at Riverbend before you head out the door.